May 11, 2019
Kamakura, Japan — May 11, 2019 — 16Lab, developer of OZON™ – a platform for next-generation computing experience – was honored to receive the TiE 50 2019 Top Startup Awards. The award ceremony was held at Santa Clara Convention Center as part of TiECon, an annual event hosted by the world's largest mentorship organization to support entrepreneurs. As a bonus, 16Lab also received $100,000 credits for Google Cloud Services. In addition, 16Lab participated in many 1-on-1 meetings with mentors, investors and tech executives.  The participation was sponsored by TiE Japan.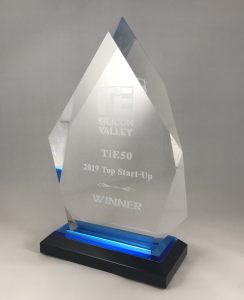 "TiE50 has become a global brand and this year we screened entries from all over the world and from a very diverse set of industries including AI, autonomous vehicles, FinTech, sustainable textiles, medical devices, robotics, fuel cells, networking, healthcare, logistics and security. We screened and selected the TiE50 winners as recognition of the potential of the companies and innovation they are bringing to market. TiE50 program has gained notoriety over the past decade as a competition run with the highest level of integrity and vigorous screening and judging by domain experts," said Kamal Anand, TiE50 Program Chair.
"For over 27 years as a not-for-profit organization dedicated to fostering entrepreneurship and with a global footprint of half million entrepreneurs, enterprise executives, and investment professionals, at TiE Silicon Valley we take pride in the fact that we have created TiE50, a strong 10-year-old brand for recognizing high potential startups," said B.J. Arun, President, TiE Silicon Valley.
---
[ About ]
16Lab Inc.  https://16lab.net
16Lab is a startup which has gathered some of the best engineering minds from across the globe in order to develop the next generation human-centered computing platform towards the Smart City era. 16Lab is a fabless company focusing on development resources in its core competence, such as embedded security, ultra-low power consumption technology and super accurate 3D motion analyses. 16Lab is a recipient of the Japanese government's subsidy program called the NEDO R&D Venture Support Program that supports highly competitive R&D-oriented innovative startups. Moreover, 16Lab was awarded top prizes at Japan-UK Tech Awards, CEATEC Innovation Awards (Home Entertainment), EY Innovation Startup Award (IoT) and TiE 50 Top Startup Awards.
TiE 50  https://www.tiecon.org/TiE50Awards2019/
Now celebrating its tenth year, TiE50 Awards provides a one-of-a-kind showcase for the world's top technology and technology-enabled startups. TiE Silicon Valley's premier annual awards program is keenly contested by thousands of early- to mid-stage startups of all sizes representing a wide range of verticals. Applications are rigorously reviewed by a panel of judges including venture capitalists, angels, successful entrepreneurs, and corporate executives. Since its inception, 84 percent of TiE50 winners and top startups have been funded at a total of over $1 billion. Many of these companies went on to acquisition or IPO with 29 of the exits at over $100 million.
TiE  https://tie.org/
TiE Global is a nonprofit organization devoted to entrepreneurs in all industries, at all stages, from incubation, throughout the entrepreneurial life cycle. With a global reach and a local focus, the heart of TiE efforts lies in its five foundational programs, – Mentoring, Networking, Education, Funding, and Incubation. There are currently 15,000 members (including over 3000 charter members or mentors) in 61 chapters across 14 countries. 
https://tie.org/tie-regions-chapters/
---
Press releases in 6 languages are available in PDFs: DE, EN, ES, FR, IT, JP